Banks have a vital role in providing financial support to SMEs
For far too long, banks have seen SMEs as a low priority, failing to appropriately serve this segment which accounts for a major portion of the global economy. This has now become a challenge for major large banks that are unable to provide adequate services to SMEs.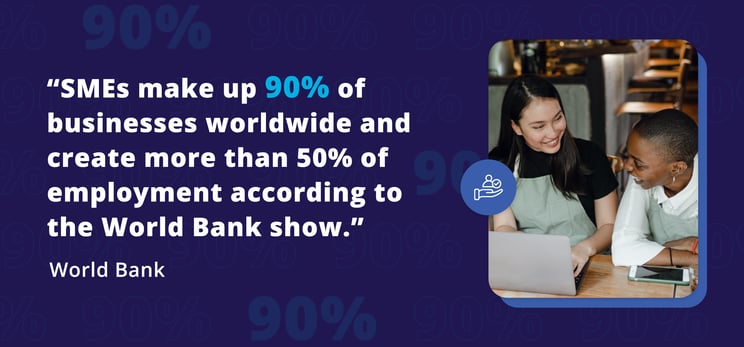 According to Forrester, traditional banking providers will need to figure out where they fit in an extensive set of SME banking ecosystems that have grown up around them — and they will need to get over their fear of 'other people's platforms and ecosystems' to achieve sustained growth in SME banking over the next 10 years.
Access to financing is a key constraint to SME growth. Smaller businesses are less likely than bigger organizations to be able to get loans from banks. Approximately half of the formal SMEs do not have access to formal finance, and the funding gap is much bigger when micro and informal firms are included.
The advantages of SME online banking
Many business banks were held back by paperwork, red tape, and branch dependency during the pandemic and therefore were unprepared to support clients. It pushed SMEs to seek alternative sources of funding. However, banks can be included in this accelerated pivot to new digitally-enabled processes.
A new ebankIT research gives insights on how to assess the SME financing gap. It outlines the strategies and technology banks can use to satisfy the requirements of underserved SMEs and flourish in a turbulent, competitive market.

In an uncertain economic environment, SMEs need their bank's support more than ever. To provide this support, banks must listen to their customers' needs, transform credit operations and become more adaptable in order to provide a tailored service that is FAST, FLEXIBLE, and CUSTOMIZED. Fintechs and other agile competitors will seize the opportunity if banks continue to let SMEs down.
What SME clients want…
Banks that rethink their SME-lending businesses can increase their market share and promote profitable growth. The operating model banks need to thrive in this market combines the right technology, new ways of working, and continuous performance monitoring—the components of proven recipes we have seen work for banks in the past.

- McKinsey

Why an omnichannel approach is crucial for SME banking success
ebankIT enables banks and credit unions to better serve SMEs. Our platform eliminates friction at every step, starting with onboarding and continuing throughout the whole customer journey. With ebankIT, financial institutions can build paperless, fully digital and totally secure journeys.
ebankIT offers a cutting-edge, core-agnostic platform that seamlessly integrates with a bank's core banking systems. Its modular design allows banks and credit unions to implement only the modules that are essential for their specific needs.
With ebankIT, financial institutions can streamline their operations and enhance their capabilities to better serve SMEs in a rapidly evolving digital landscape.
Accelerate your digital transformation.