After years of expectation, the 5th generation of mobile networks – commonly known as 5G – is finally becoming a reality in many countries around the world. In some places, such as South Korea and the United States, wireless customers are already using 5G devices and the technology is quickly becoming mainstream. For the financial system, this is a game-changing opportunity, not only to accelerate and improve the services already existent, but also to create completely new experiences, more intuitive, more interactive, and overall, more humanized.
5G is finally here – and with it, a new world of possibilities for the digital banking system. Emerging 5G networks feature lower latency, higher capacity, and increased bandwidth compared to 4G. Communications will become faster, and networks will be more efficient and productive. In this digital revolution, 5G promotes a new ecosystem that will enable digital banking platforms to reshape the relationship between financial institutions and end-consumers.
With increased reliability and quality of service, the first step forward will be the acceleration of current services. Over the last years, digital banking platforms have reached an outstanding progress, not only in the technological sense, but also from a customer-service standpoint. With the implementation of 5G networks, every financial task, such as money transactions/digital payments, will become exponentially faster. This acceleration will probably trigger a further growth of mobile banking throughout the world, finally surpassing web banking.
5G technology reinforces a trend that ebankIT has been tracking for years:

Humanizing Digital Banking.
At ebankIT, we understand that the modern customer has developed new habits: is often on the go, demands instant support, prioritizes trustful relationships, and seeks a seamless and omnichannel experience. Financial institutions need to adapt themselves to meet these demands, and 5G technology is a unique opportunity to move forward on the path to humanize the digital banking experience.

The statistics suggest that by 20251 there will be at least 75 billion devices worldwide, many of which will be connected by a new generation of networks. 5G will require banks and other financial institutions to significantly reform the ways they use technology, especially regarding customer engagement. User's journey will become more personalized and interactive than ever, and customers will demand a useful reply at every request.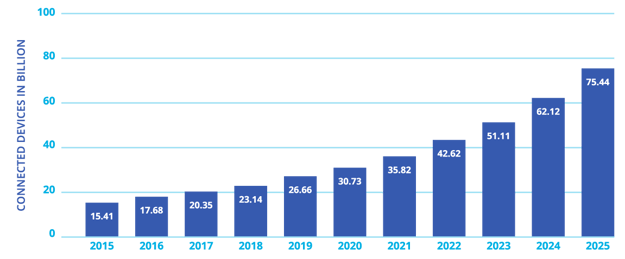 For example, 5G will enable financial institutions to offer more accurate and timely geo-targeted offers. Digital networks will become more precise, and digital banking platforms, like ebankIT, will be able to optimize their geo-localization technology, offering increasing personalized solutions based on the location of their users.
5G will also open the door for a more immersive customer experience. Banks and Credit Unions will be able to use video chat and co-browsing more frequently but, above all, it will also be the perfect opportunity to explore emerging technologies, such as Intelligent Concierge Robots or Gamification Mechanics. Both were already extensively explored by ebankIT but will probably evolve further with the implementation of 5G networks. Watch our demo
Intelligent connectivity:

A new era for digital banking
In the end, 5G networks are paving the way for two major future trends: Artificial intelligence (AI) and the Internet of Things (IoT). Financial Institutions will be forced to embrace these trends.
5G networks will offer the connectivity that will enable further usage of robotics and AI. In the banking system, AI will be increasingly used to gather and analyze data, to improve processes from end-to-end, and to offer additional cybersecurity. AI is becoming vital in managing fraud effectively and it can be applied to detect upcoming cyber-threats.
In the end, 5G technology will also boost the efficiency of new channels, other than mobile and web banking. Customers will be connected through wearables, such as fitness trackers and smart watches, opening a new world of possibilities for financial institutions. Know more about our wearable solutions

Undoubtfully, 5G opens the door for a new digital revolution. To undertake this new challenge, the banking ecosystem – especially smaller financial institutions eager to compete on equal terms with larger banks and credit unions – will need to adapt as quickly as possible and adopt an omnichannel and innovative approach to the digital banking experience.
If you are interested in knowing more about 5G, please check the following articles from Gartner and Omdia.