Community banks have always been an integral part of the US financial ecosystem, but in recent times, they have needed to catch up to their larger competitor regarding of technology infrastructure. However, American community banks can still level the playing field by focusing on their unique strengths.

Despite facing significant headwinds, community financial institutions have managed to keep pace with larger banks in terms of return on assets, and equity. But to stay ahead of the curve, community banks must embrace technological advancements.
Moving to the cloud is one such opportunity. While it presents challenges, there are numerous benefits that exist such as increased efficiency, scalability, and cost savings. Fortunately, there are read ready-to-market banking services vendors and cloud service providers that can assist community banks.
By taking advantage of pre-built platforms such as ebankIT omnichannel platform, community banks can shift to the cloud and focus on their unique strengths to offer a more seamless and personalized banking experience to their customers and remain relevant in an increasingly digital banking landscape.

The technological challenge to overcome them
While community banks have managed to keep up with their larger competitors, they still face significant challenges. The threat of recession looms, and leading global banks have already issued warnings about the financial pressure they expect to come from economic uncertainty, highly stringent regulation, and high inflation.
In addition, consumer behavior is changing, with digital disruption making it easier for customers to switch banks and unbundle their banking relationships. Technology is a crucial hurdle that community banks must overcome if they wish to stay competitive with their larger counterparts in the United States.
However, creating and sustaining banking technology is a costly endeavor. Large banks spend billions of dollars on technology each year, never mind the investment in innovation and transformation necessary to get and remain ahead. Collaboration with a fintech can help community banks save expenses and accelerate digital transformation.
Optimize, automate, and save costs
To adapt to the evolving landscape of banking technology, community banks must prioritize the development of their digital platforms to cater to the changing needs of their customers. Ensuring a seamless experience across all channels, from the bank's website to its mobile app, is essential in remaining accessible and relevant to their communities.
The initial focus should be on optimizing operations by investing in the digitization of client journeys, automating back-office processes to enhance efficiency and reduce costs, and embracing next-generation features.
With the assistance of ebankIT, community banks can enhance their mobile app offerings, as well as their web banking and branch front office services. It will alleviate the flexibility concerns typically experienced by community banks as well as offer clients convenient access to online banking, regardless of their geographical location.
Community banks must also keep up with digital innovation and execute new features within a 12 to 18-month timeframe if they want to remain competitive. By utilizing ebankIT's pre-built platform, community banks can swiftly implement a market-ready solution in just 3 months and launch new features and updates every six months.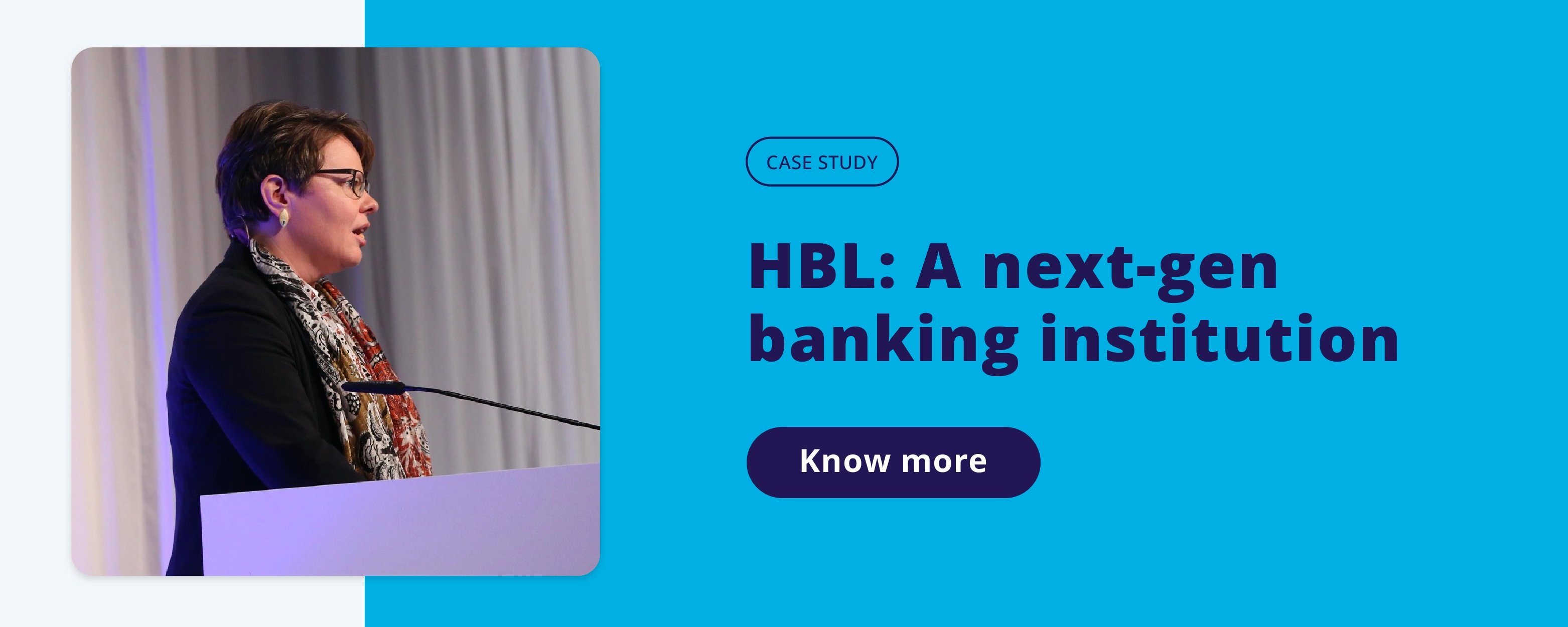 By implementing an omnichannel banking solution, community banks can enhance their flexibility and provide their clients with convenient access to banking services anytime and anywhere. Additionally, integrating online banking capabilities will allow them to broaden their customer base and cater to a diverse range of individuals.
Community banks that had higher ratios of loans to assets, higher growth, and better performance also were more likely to have adopted the technologies covered by the survey, even after differences in size were accounted for.

- FDIC Community banking study.
Humanizing digital banking for an excep

tional customer experience
Exceptional customer service is a key advantage that community banks can leverage against large banks in the United States thanks to their close relationship with clients. Maintaining that intimate and meaningful connection and extending it to the realm of online banking will serve as a crucial edge for community banks.
By humanizing digital banking everywhere on every device, community banks can take financial management to the next level and stay relevant in an increasingly global and digitally-driven banking landscape. Artificial intelligence with human-like conversational abilities and machine learning algorithms are crucial to enhance customer service and contact centers.
As client needs become increasingly complex, significant opportunities exist to help frontline relationship managers work more productively. By optimizing the front line's performance with analytics, banks can simplify and streamline the front branch's day-to-day tasks and help them understand clients better. Innovative technologies have the potential to save bankers hours of valuable time annually, allowing them to focus on activities that can bring even greater value to their clients.
These groundbreaking services provide invaluable insights and analytics, resulting in:
Shorter call times
Heightened consumer satisfaction
Improved employee retention
Increase in revenue generation
It is time for community banks to catch up with the automation trend and provide more control to their customers. To achieve this, banks need to focus on conversion rates and offer a simplified online onboarding process that does not require human intervention.

The rise of community banks: leveraging your strengths
Despite the challenges, community banks can compete with larger banks in the USA by leveraging their strengths and implementing effective strategies. Investing in new technologies and customer services should be their main focus.
Community banks must offer a user interface that embodies the modern and sleek style of neo-banks, ensuring it is user-friendly and visually appealing. With the support of ebankIT, community banks can quickly implement a cutting-edge digital omnichannel solution that perfectly aligns with their needs and clients' demands while cutting significant costs.
Explore the possibilities of a comprehensive digital omnichannel solution that caters to your bank's requirements at a reduced cost. Improve credit function efficiency and customer experience, optimize branch footprint, boost the productivity of commercial and consumer sales forces, and increase fee income.
Discover how ebankIT can take your community bank to the next level by downloading the ebankIT brochure.