The rise of cloud banking: how technology is transforming the financial industry
When it comes to cost-efficiency, client onboarding, expansion, and configurability, banks fall behind fintech firms. They also spend too much of their IT budget on maintenance rather than innovation. Banks with legacy infrastructure may solve these issues by shifting to the cloud and investing in cloud-native and AI technology.
The transition to cloud banking for financial institutions has become more and more prevalent as a result of its various benefits. A cloud-based banking software provides financial institutions with a safe, dependable, and cost-effective platform to run their operations. It enables faster processing and data access, as well as an enhanced client experience.
Cloud migration is inextricably linked to the greater front-to-back process modernization and transformation that many banks and financial institutions are undergoing. That is why nowadays, most banks place the cloud at the center of digital transformation.
Unraveling the Advantages of Cloud Banking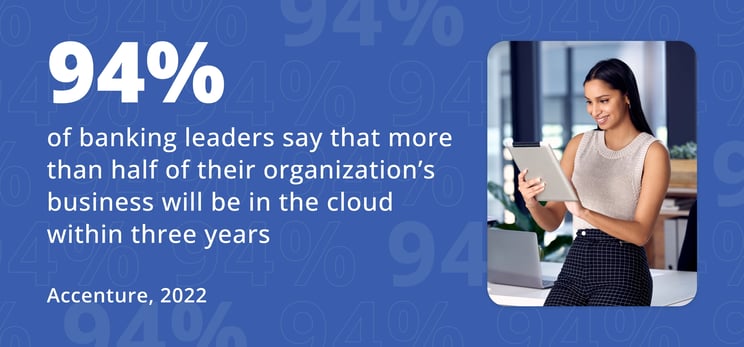 Cloud banking offers a more personalized and humanized experience than you think. The cloud serves as the foundation for a bank that is present at every touchpoint, tailored to every engagement, and capable of meeting changing consumer demands.
Banks of all sizes, influenced by the digital innovations that occurred throughout the pandemic, view cloud computing as a tool to respond to client demand, fend off rivals, enhance efficiency, and promote quicker business growth.
In 2022, Deloitte US did a survey that established that a "Faster time-to-market" is one of the most compelling benefits for banks and credit unions when transitioning to cloud banking.
Other soaring benefits of embracing the cloud:
Automation
Access to current digital business process blueprint
Ease of migration from legacy solutions

Integrated processes

Flexible systems
Bid farewell to outdated legacy systems, fragmented databases, and the stronghold of local branches. The banking industry is witnessing a shift towards seamless availability of banking operations at the mere touch of a button. Embrace the agility, speed, and innovation commonly associated with cloud banking.
Major banks and other financial institutions that restrict themselves by only investing in front-end user experiences rather than rebuilding and rethinking the end-to-end experience are missing out on long-term gains that would revitalize the customer experience.
"Cloud adoption is no longer the mark of a digital leader, merely the logical evolution of IT."

- Barry Brunsman Principal Advisory, CIO Advisory at KPMG in the US
Boosting efficiency and accessibility with the cloud
Cloud efficiency is critical for banks to stay relevant and push the boundaries of innovation, speed, flexibility, and resilience. The transition to the cloud can provide essential possibilities for more prolific data access and mining, as well as prospects for considerable cost reductions through automation.
Cloud-based solutions provide a far more appealing and practical way to meet growth objectives due to improved configurability and scalability.
Organizations that are exceptionally effective at digital transformation and experience the highest ROI are the most likely to have fully fulfilled or surpassed their cloud program objectives. 80% of respondents are pleased with the results of their cloud transformation efforts to date.
"Globally, these advantages are expected to push revenue for the cloud computing industry up 50% to $364 billion in revenue from 2019 to 2022."

- Gartner, 2020.
76% of CISOs said they are happy with the success of their cloud transformation programs."

– KPMG Global Tech Report 2022.
The main benefits of cloud systems for banks include a more affordable total cost of ownership in contrast to end-to-end on-premises IT infrastructure (35%), and efficiency improvements (33%).
A future-ready solution with a cloud banking platform
The ebankIT Cloud solution is designed to construct and deploy cloud projects quickly. This omnichannel platform offers a flexible and scalable cloud-based interface with a modular approach and integrated services. This platform ensures a quick time to market with ready-to-use solutions, empowering banks and credit unions to tailor it to their specific business objectives.
ebankIT provides a comprehensive cloud banking platform that harnesses the power of technology to exceed customer expectations and maintain a strong market presence. With a focus on seamless customer experiences, ebankIT ensures that the infrastructure of the platform of your financial institutions is highly integrated, allowing for smooth interaction points.
API integration is meticulously assessed to prevent the formation of isolated compartments that disrupt the seamless flow of customer experiences. ebankIT is continuously evaluating whether technology selection and workflow design are in sync with client demands and expectations.
ebankIT helps speed banks' digital transformation initiatives and reduce related risks by combining the benefits of mainstream cloud services with industry-specific procedures.
88% of businesses are already in an advanced adoption of the cloud. What are you waiting for to start your transition?

Adapt or fall behind
Banks must shift their focus to cloud computing to grow revenue while simultaneously boosting efficiency. The cloud holds a significant promise in assisting banks in achieving their goals by connecting different technologies, reducing workload for banks, boosting innovation, and allowing them to focus on their unique value proposition.
Cloud banking has the ability to unlock the complete potential of the banking industry's digital and business transformation endeavors.