Artificial Intelligence is revolutionizing banking
Artificial intelligence is a concept that has fascinated researchers and scientists for decades, it has finally become a reality in recent years. Advancements in computational power and the availability of vast amounts of data have paved the way for the true effectiveness of artificial intelligence. We are now living in an era where this technology can revolutionize various industries, particularly the banking sector.
The potential impact of artificial intelligence in banking cannot be underestimated. It has the power to transform the way financial institutions operate, enhance customer experiences, and improve overall efficiency. With this in mind, banks and credit unions must embrace and leverage artificial intelligence if they wish to remain competitive in the rapidly evolving financial landscape.
As Artificial intelligence is growing in popularity, banks and credit unions need to take advantage of it if they want to remain competitive in the financial landscape.
The impact of artificial intelligence in banking, according to Gartner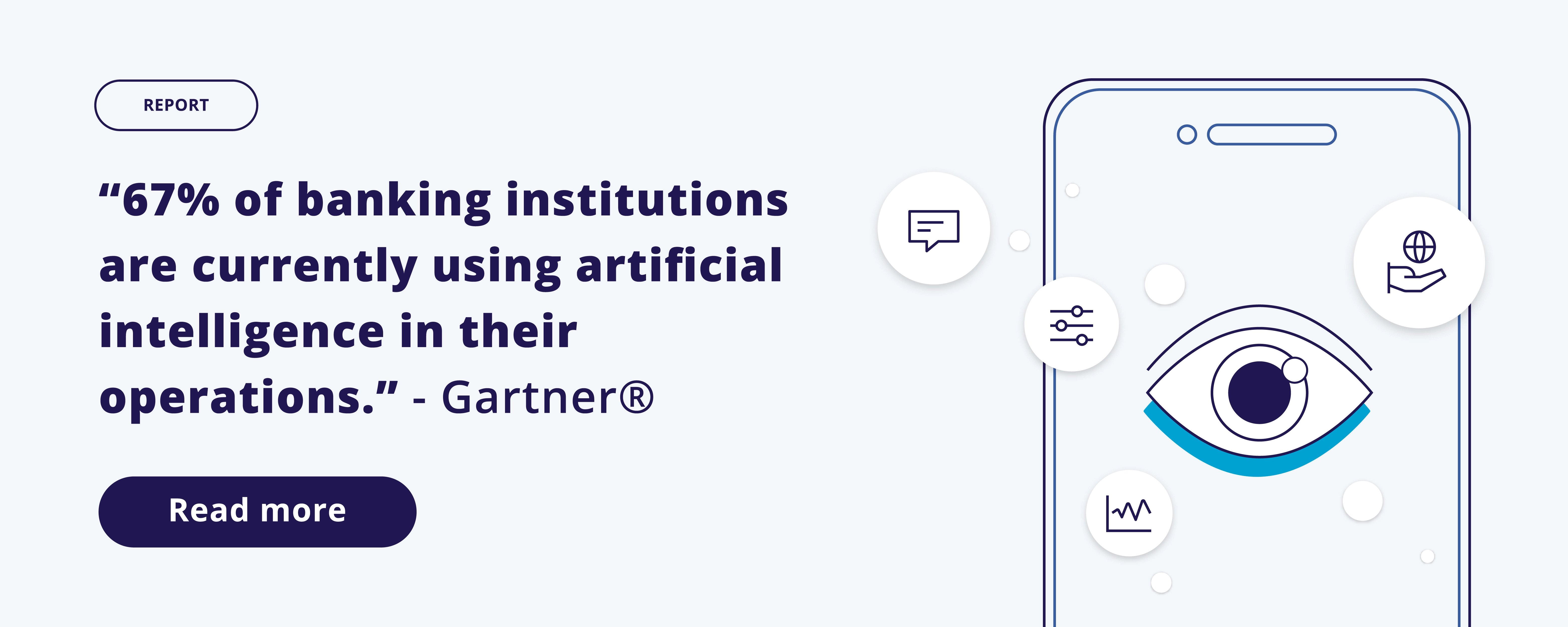 In 2023, a report published by Gartner, a leading research and advisory company, titled "Emerging Tech Impact Radar: Artificial Intelligence in Banking", the profound influence of AI on software and IT services products in banking is explored. The report provides valuable insights and recommendations for financial institutions to effectively incorporate this new technology into their operations and enhance their services.
Gartner states that "Sixty-seven percent of banking institutions are currently using artificial intelligence in their operations."
This statistic highlights the increasing popularity and significance of AI in the banking industry. The report further examines emerging technologies and trends that business executives need to be aware of, offering a comprehensive analysis of ten technologies that will greatly impact future AI-based goods and services. Additionally, it provides strategic guidance for managers who seek to navigate their companies through fast-paced technological advancements.
Gartner emphasizes the importance of product leaders analyzing various AI technologies to effectively incorporate them into their solutions and gain a competitive advantage. The report offers strategies and key findings that can help banks and credit unions harness the power of this emerging technology.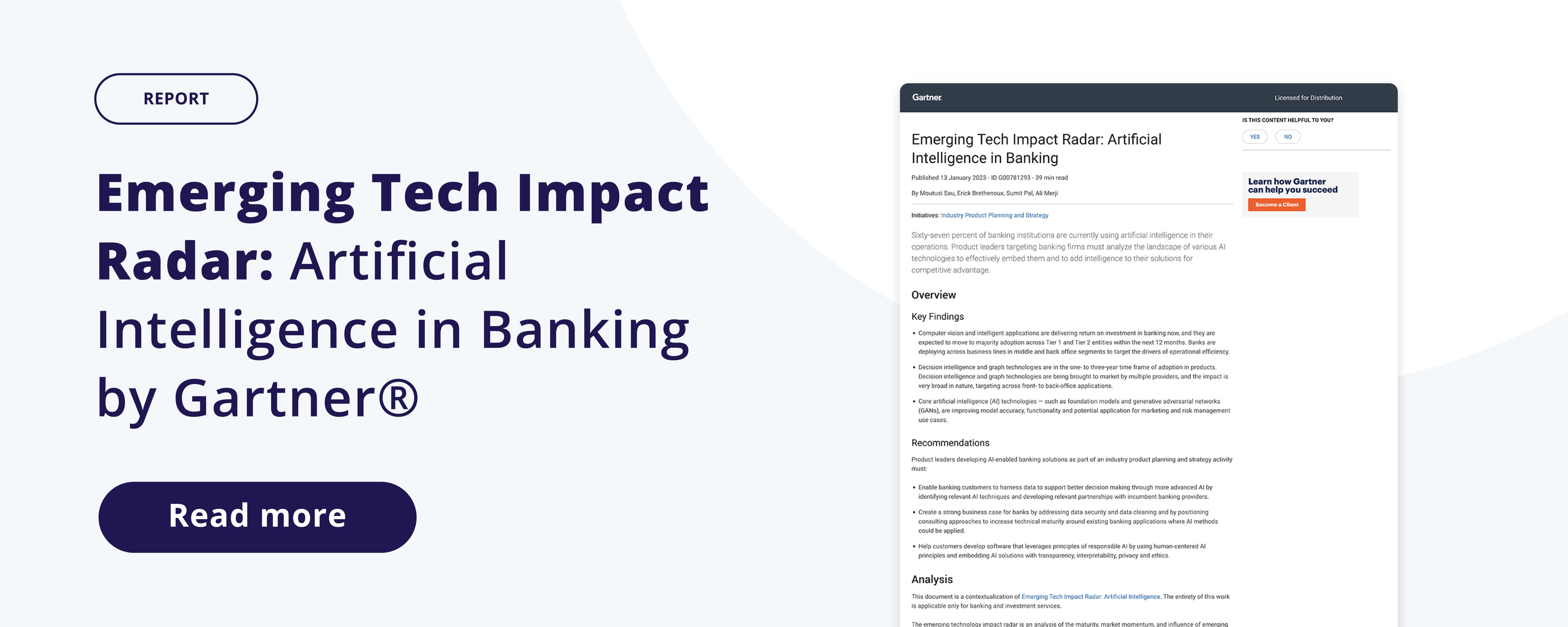 Artificial intelligence is one step closer to humanizing digital banking for banks and credit unions. In the report, Gartner says "Product leaders targeting banking firms must analyze the landscape of various AI technologies to effectively embed them and to add intelligence to their solutions for competitive advantage."
Here are some of the key advantages of AI:
Automation and Efficiency: Artificial intelligence can automate mundane and repetitive tasks, saving time, reducing errors and increasing efficiency as well as productivity, enabling businesses to operate at their fullest potential.

Improved Customer Service: AI-powered chatbots and virtual assistants are capable of delivering round-the-clock customer support, promptly addressing queries and swiftly resolving issues.
Cost Reduction: AI can result in significant cost savings by automating tasks and improving efficiency, reducing the need for human resources.
Data Analysis: AI systems can analyze vast amounts of data, enabling data-driven decision-making and uncovering valuable insights and trends at unprecedented speeds.
Personalization: AI algorithms can analyze user data to personalize recommendations, content, and user experiences. This is particularly valuable in marketing, e-commerce, and content delivery.
If you want to discover more about Artificial Intelligence to build your AI strategy, you can download the full report down below.