Banking as a Service is the Future of Financial Technology
Banking as a service (BaaS) may seem similar to open banking, but it has a subtle difference. While open banking provides access to the bank's customer data, Banking-as-a-Service (BaaS) allows third-party access to the bank's functionality. As a result, BaaS banking incorporates both open banking and API banking.
This is especially important for smaller banks and financial institutions that wish to offer their consumers more creative services that would otherwise be too expensive for the provider to create independently.
Banking-as-a-Service can assist conventional financial institutions in overcoming the shortcomings that they have when attempting to construct their own digital banking platform, bringing up a whole new base of prospective clients without the obstacles of having to build systems in-house.
By making banking services and products available through third-party distributors, Banking as a Service (BaaS) is altering the value of the financial ecosystem. Banks, in particular, are incorporating fintech or other financial service vendor goods into the banking process, while non-financial firms are incorporating banking products into their own offerings.
BaaS products enable innovative, customized offers and bring them to the market faster by combining neo-banking businesses with regulated financial infrastructures. Classical banking can no longer get away with rolling out the same old financial products on archaic systems.
Why a BaaS Platform is the way to go?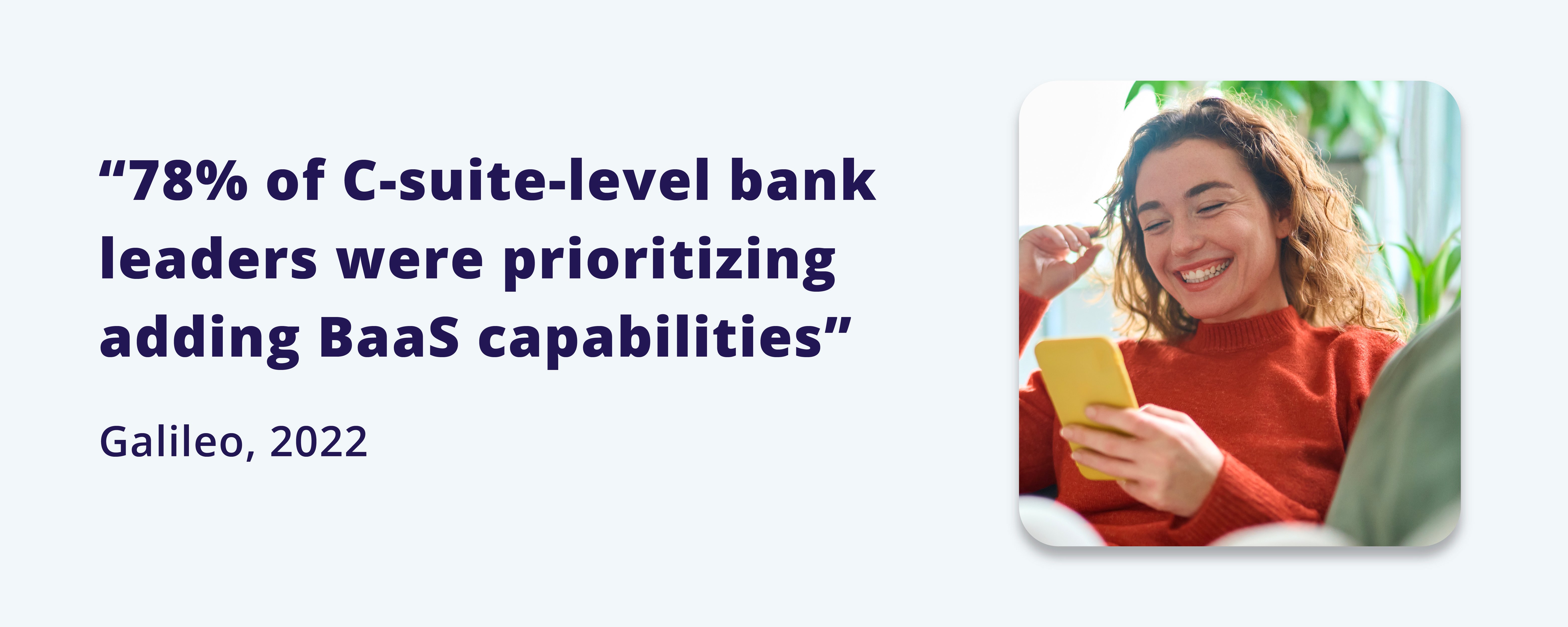 The banking industry and what it means to be a bank is changing. The rising prevalence of digital channels in practically all parts of everyday life, from entertainment to shopping to doctor appointments, has established and reinforced consumer expectations for efficient, rapid, and on-demand experiences.
A newly released study conducted by Galileo in cooperation with American Banker revealed that 78% of C-suite-level bank leaders were prioritizing adding BaaS capabilities, and 59% of BaaS-prioritizing banks already were at least in the testing phase of BaaS capabilities.
Legacy banks with a technological edge may ward off the threat of fintechs by going into the BaaS industry to share their data and infrastructure. Rather than compete, collaboration is the key to a successful banking strategy. Furthermore, Banking-as-a-Service platforms enhance financial transparency by allowing banks to open up their APIs to third parties for the development of new services.
BaaS also gives banks greater customer insights by identifying clients' financial needs and purchasing behaviors, which financial institutions may utilize to generate personalized offers for their clients. Unsurprisingly, 80% of bank clients respond to personalized offers.
Open Banking and API banking platform
BaaS and APIs go hand in hand, even when it comes to data manipulation. This function is essential for organizing, mapping, polishing up, or otherwise changing data before it is fed into the backend or presented to consumers.
Banks intend to expand their usage of APIs in order to minimize IT complexity, promote agility, and empower partners. BaaS has a modular architecture that combines easy-to-manage and drag-and-drop functionality to simplify the complex backend for developers.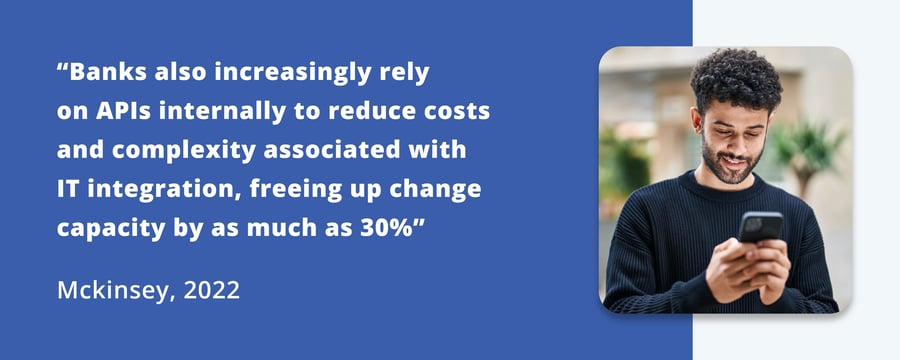 APIs provide apps with a new degree of modularity. APIs enable developers to make use of the knowledge of other programs. When a company creates an application, it no longer has to reinvent the wheel in areas like authentication, communication, payment processing, and mapping. Instead, developers may make use of APIs' seamless plug-in capabilities and functionality. APIs enable applications and system components to connect with one another on both internal networks and the Internet.
Banks and credit unions may use the ebankIT API gateway to access all of the data held within the banking app, allowing them to provide a diverse range of services to their consumers. The ebankIT API Getaway enables the integration of third-party applications while also ensuring PSD2 compliance, allowing banks and credit unions an infinite path of innovation.
Benefits of Open Banking APIs:
Client acquisition and retention: banks can reach out to new potential clients more effectively and at a lower cost.
New revenue streams: Banks charge fees to non-bank partners for each API transaction.
Modernizing technological functionalities: More flexible and agile banking systems that speed up product development.
BaaS Banking: the future is now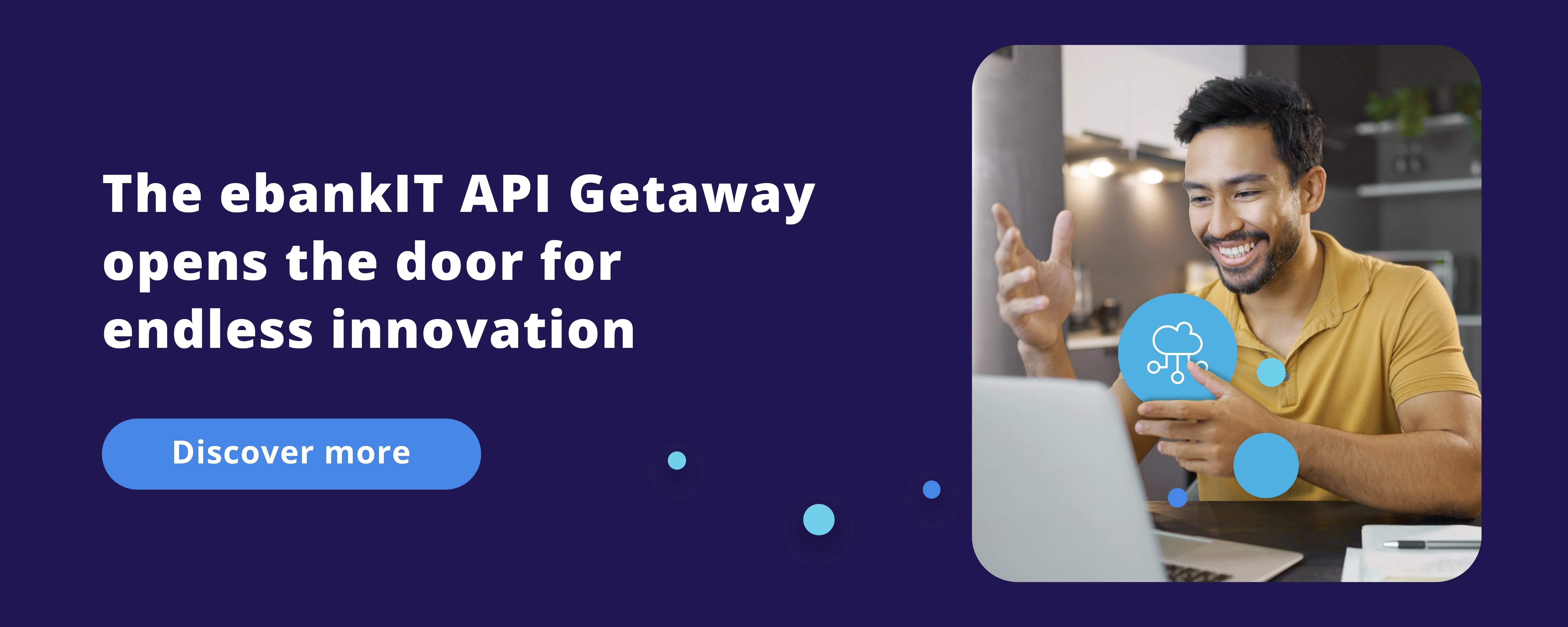 Banking as a Service, APIs, and Open Banking, all relate to a single concept of granting third-party access to banks' data and credentials in order to create new products and improve consumer experiences. BaaS enables third-party access to the bank's capabilities while including APIs and open banking.
All of these approaches have disrupted traditional banking, allowing banks and non-bank enterprises to increase their competitiveness and profitability. Discover how you can get ahead of the competition with the help of ebankIT.